Necromancer - The Brilliant Harmony
Edit
| | |
| --- | --- |
| Name | Simone |
| Sex | Female |
| Age | 20 |
| Birthplace | Eastern Europe Turkistan |
| Height | 169 cm. |
| Weight | ? kg. |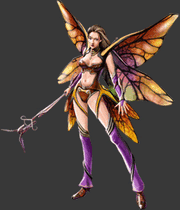 A noble character, the specialty of the Necromancer is the use of sorcery, and magic. Highest mastery of wizardry and specialists in use of magic.Simone was born in a quiet village where other Necromancers lived. Growing up learning sorcery and a quiet guarded life, she was curious when told of Gajser terror of reign rampant. She became interested in the outside word and was determine to help. World was not what it seem, when she head on her own to battle the Gajser regime. Quickly, the regime learned of the Necromancer's power and ordered execution of all of them. She retreated to south of Turkistan, where being chased by the army, was rescued by Knight who also arrived. There, she met the remaining 6 heroes, and vowed to destroy Gajser.
Ad blocker interference detected!
Wikia is a free-to-use site that makes money from advertising. We have a modified experience for viewers using ad blockers

Wikia is not accessible if you've made further modifications. Remove the custom ad blocker rule(s) and the page will load as expected.